Talent Shortage in EMEA Challenges the Insurance Industry
The insurance industry continues to evolve , requiring insurance organizations worldwide to adapt new ways of operating. As a trusted partner to insurers, Xceedance is in-tune with the unique dynamics of insurance markets across the globe and well-positioned to help clients address the challenges and opportunities of industry evolution.
Below, Anna Kosielska from the Xceedance solutioning team highlights a specific industry trend in EMEA – the shrinking labor market.
The global labor market is shrinking. In a recent survey from Manpower, 69 percent of respondents reported difficulty in finding skilled employees, up from 54 percent in the previous year. Conditions across the EMEA region are even worse, with almost three out of four respondents reporting the same difficulty, a 15-year high. The insurance market is not immune to this trend, with the retirement rate among insurance industry professionals significantly outpacing the interest level from millennials, who will constitute 75 percent of the global insurance workforce in the next few years.
This talent shortage poses many risks for re/insurers, especially when the industry itself is undergoing a transformation from traditional ways of doing business to digital-first operations. Increasingly, the insurance industry trend is to efficiently leverage artificial intelligence, machine learning, advanced automation, and predictive models to augment processes and extend capabilities. This transformation is already bringing about additional challenges, as the skills required can be significantly different to the roles the industry recruited for previously. It is estimated the need for technical skills in the insurance industry will increase 55 percent for all key roles, as presented in this chart from McKinsey: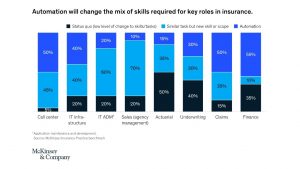 Xceedance can help re/insurers adapt to the changing technology landscape. We seek to understand client objectives and collaborate closely to achieve them. Our business operations experience and technology expertise can support clients to boost digital enablement, leverage intelligent technology, and improve expense control while refining and automating operational processes. When internal capacity is a challenge, Xceedance can offer on-demand services, giving clients time to adjust to market conditions with significantly less cost and enterprise risk.
Anna Kosielska is an associate vice president, solutioning at Xceedance