5 Questions with Puneet Bajpai
Welcome to the next installment of 5 Questions, a blog series where a team member from Xceedance shares their insights on important trends in insurance, technology, and business. For this edition we spoke with Puneet Bajpai, SVP of risk intelligence and data sciences.
Q1: Where do you see the biggest threats, or opportunities, for insurance organizations in the next decade?
Puneet:Greater availability of relevant data from a variety of sources, including governments, non-profit agencies, social media, aerial imagery providers, and others has created an ecosystem conducive to enabling better underwriting decisions. However, the application of such data for risk assessment continues to be limited, mainly due to process and technology gaps and a lack of proper workflows to incorporate such datasets into insurance decision-making. Organizations that exploit both external and internal datasets intelligently, and can make data-driven decisions to advance their processes from computation to prediction, will be able to differentiate themselves.
Q2: If you could influence how insurance professionals consider the importance or usage of data, what would you change?
Puneet: Data and analytics are of vital importance for the future success of any insurance business. In the current market, much of the data has greater theoretical than practical value. Refined data can drive decision-making and enable opportunities, growth, and efficiencies. But it has to be approached intelligently, as working with data requires careful planning, engineering, and research to derive insights and realize the value. Insurance professionals need to work towards creating a multi-disciplinary ecosystem of data collection, storage, and insights with proper workflows tied to the unique nature of the insurance value chain.
Q3: How is the concept of risk intelligence changing in the global insurance industry?
Puneet: Risk intelligence is all about driving better insurance outcomes with relevant and complete information. The availability of new data sources, advancements in technology, and increases in computing power have led to tremendous possibilities to bolster the existing risk data landscape with a variety of non-traditional datasets to drive growth and profitability. Different lines of business may require different sources of data, but all datasets can be grouped into static (long-term) and dynamic (real-time) categories and each is of equal importance for internal risk management use cases as well as insurance risk transfers.
Q4: Numerous insurtech firms are offering AI solutions to the insurance industry, but many still don't see the full value of the technology. Why do you think that is the case?
Puneet: One of the reasons for the lack of trust in AI solutions is that the data is often too noisy to provide intrinsic value. The workflows for such offerings typically start with an idea about improving the business process, and only then go to the data that serves as the foundation. The success of AI depends on a combination of having the right algorithm, infrastructure, data, and application UI (if needed). While the algorithms and infrastructure steps are fairly easy to get right, building the right UI and curating the right data are the keys to an AI solution being operationalized into an insurance workflow successfully.
Q5: You were recently promoted to the role of SVP, risk intelligence & data sciences at Xceedance – what are your primary initiatives in that position?
Puneet: From a data science perspective we are working to operationalize machine learning products for various OCR and predictive modeling needs throughout the insurance lifecycle. Two of the initiatives the team is really excited about are:
A data extraction engine tailored to submission clearance needs
An automated predictive model development process for submission triaging.
On the risk intelligence front, we are applying a systematic approach to going beyond the tip of the insurance data iceberg (see image below) by compiling and offering ready-to-consume, external, and non-traditional datasets by building applications to curate and consume internal data, and then help benchmark that with aggregated data at the industry level.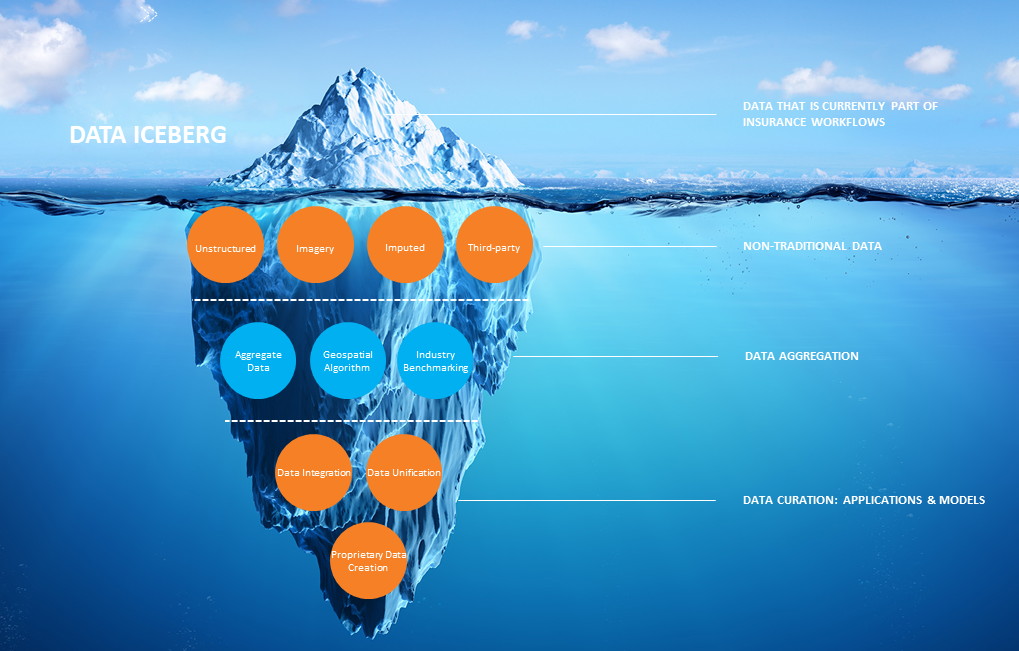 I have a great team and am truly excited about the impact the risk intelligence and data sciences capability unit can have at Xceedance.
###
Thanks to Puneet Bajpai for sharing his thoughts, and watch for the next installment of 5 Questions featuring Monalisa Samal on Thursday, August 4!